back to exhibitions
Thirteen Heavens
Trece Cielos (Thirteen Heavens) by José Elías Puc Sánchez, is a sound discourse that gravitates around Mayan mythology and cosmology. The Mayans believe in the existence of thirteen heavens arranged in layers on the ground, and nine underworlds also arranged in different plateaus ruled by gods and an endless cyclical succession.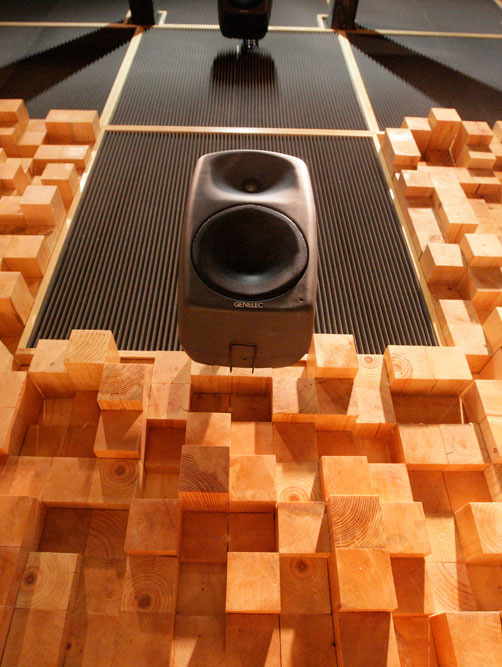 Time was considered as a series of periods without a beginning or an end, the universe will never end because of their belief in its immutable regeneration.

Elías Puc recreates these cycles incorporating sound as a substantial part in a constant flow of change, in which birth and destruction prevail. There is no beginning and no end. Trece cielos simply flows through three perspectives on Maya cosmogony: birth, supplication and destruction.

With the aim of expanding the possibilities for reproduction, comprising the reflections of sound artists and young Mexicans composers, the Espacio de Experimentación Sonora (Space for Sonorous Experimentation) continues, -in parallel with interventions of known artists- Desbordamientos (Overflowings).

Trece cielos is the second part of this series with which the MUAC contributes with the ESS technology platform, to the training and promotion of new artists while in turn, the visitor becomes aware of what the sonorous art can become together with electroacoustic composition in Mexico.

We appreciate the support of Manuel Rocha Iturbide for the elaboration of the program Desbordamientos.
Artist: José Elías Puc Sánchez (Mexico, 1986).
Curator: Guillermo Santamarina.
Associate curator: Marco Morales.

José Elías Puc Sánchez, a native of Merida, Yucatan, studied composition at the College of Arts of Yucatan. Student of Dr. Javier Alvarez, has taken classes with composers such as Karlheinz Essl, Ken Ueno, Mauricio Valdes, Leon Enriquez and Rodrigo Sigal. His work includes acoustic compositions, mixed and electro. He has also participated in several festivals such as: Encuentro Musical de Música y Artes Sonoras (International Music and Sound Art Encounters) -Brazil 2010, "Festival en la Havana" (Fest in Havana), Festival Instrumental Contemporáneo (Contemporary Instrumental Festival) -Oaxaca), among others.